Tips to help your small business get noticed with these tips on how to rank higher in search results.
You've heard the phrase "Location, location, location!" about real estate. The same applies to your website on search engine result pages — the higher your site is listed, the more traffic you're going to get. And by adding the right keywords to your site, you can increase qualified traffic, which means more new customers.
Have a look at these top tips from GoDaddy:
Organic vs. Paid Listings
You can attract visitors to your site a variety of ways, but one of the most effective ways is being listed at the top of the "organic" search results on search engines like Google®, Yahoo!® and Bing®. Unlike paid listings, which are advertisements that display in sponsored areas, organic results are free and based on, among other things, the site's content and how closely it matches the keywords being searched.
Your SEO Goal: Get on the First Page!
Few people click beyond the first page of search results, so if you want to be seen, you need to be among the top listings. To do that, you need to learn a bit about how search engines work and how to optimize your website, more commonly known as Search Engine Optimization (SEO).
Interesting Fact: 97% of people looking for local products or services search the internet for information."
Once search engines know your site exists, they scan your site, index the information, and analyze the content to determine how and where your website should display on the results page. If your site isn't optimized, it won't rank well and may end up well below your competitors.
Key Elements to Increase Your Rankings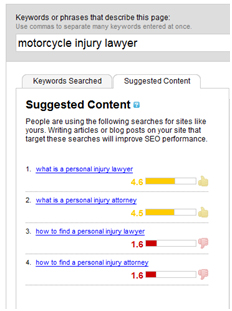 Each search engine and directory has its own set of ranking and listing criteria, but they all look at the same basic elements.
Keywords — These are select words and phrases that someone would use when searching for your business. You'll want to choose 5 to 10 words or phrases that best represent your content, then use these words and phrases frequently on your site (but only where it makes sense — don't cram them in).
Quick Solution:
SEO tools, like
Search Engine Visibility
, can help you identify keywords and phrases relevant to your business to include on your site. It also includes a Top 10 SEO Checklist tool that automatically checks your site to identify ways to improve your search rankings.
Title Tag — The title tag provides a brief summary of what people can expect from the page. It displays in a few important places, including the browser's title bar, and as the title for your listing in search engine results. If you target a specific audience, consider including that in the title, like "Experienced motorcycle accident and injury attorneys in Arizona." It helps if each page in your site contains a unique title, but keep it concise — less than 65 characters.
Description Tag — The description tag displays below your website's link in search results and should entice people to visit your site. Every page in your site should include a unique description using the keywords for that page. Keep your descriptions less than 250 characters and avoid non-alphanumeric characters.
Header Tag (H1 Tag) — Each page in your site should include only one header tag. While it doesn't display in search results, it's generally the largest or most prominent text on the page. The header tells visitors what they're reading or viewing. Keep it brief — no longer than a short sentence.
Page Content — Your website's content, the text that your visitors read, is important for search engines as well. Use between 300 and 700 words, including the keywords you selected, and bold each of the keywords once on the page. And always make sure everything on your site is original material.
Interesting Fact: Search engines can tell (and will penalize you) if your content has an excessive number of keywords, so don't overdo it.
Navigation — Navigation refers to all the links on your site. Visitors and search engines both rely on good navigation to get around your site. Broken links are like hitting a brick wall, so be sure to check your links regularly.
Sitemap — A sitemap is essentially a map or directory of all the pages in your website. Sitemaps guide search engines throughout your site with the names and locations of pages. They can speed up indexing and, in some cases, increase site traffic by indexing previously buried pages.
Image Tag — Images help break up the text and add visual interest to your site. Be sure to include an image on each page, and properly format it with an "alt" attribute using keywords for the page. Because search engines can't see images the way we do, they depend on alt attributes to appropriately catalog and index the image.
Tip: Optimizing your images, so the file size is smaller and the image loads faster, can also help your search rankings.
Link Building — Links are a big factor in how search engines rank your site. There are two types: interlinks and back links. Interlinking is simply creating a link from a keyword or sentence on one page to another area of your website. For example, the sentence "Find an attorney near you" would be linked to the list of office locations on your site. Back links are other websites that link to your site. Search engines weigh these more heavily when determining your rank, and unfortunately, these are more difficult to achieve. Some easy ways to create back links are listing your business in online directories, and sending news announcements and press releases that include your website address. You can also contact other business owners in your community and offer them a link exchange.
See You At the Top.
Search engine optimization can have a big impact on the success of your online business. The good news is that with the tips presented in this article, you have the basic tools you need to get started. Take a little time to tune up your site and watch your customer base grow with your search results.
Let's Put Our Cities on the Map
When you Google your business, does it show up in search results? The chances are it does, but if it's buried on page 20 it's not going to get much traffic. If this sounds like you, Google has started a new initiative to help small businesses rank higher more easily. It's called Let's Put Our Cities on the Map and its purpose is to, well, put your business on the map – or at least on the first page of Google search.
Here's why showing up in search results matters
Google announced Let's Put Our Cities on the Map on March 25. Along with it, they also shared the following statistics that demonstrate just how important search results are for your business:
Four out of five people use search engines to find local information
Businesses that are online grow 40% faster than those that aren't
Consumers are 38% more likely to visit and 29% more likely to consider purchasing from businesses with complete listings
Let's Put Our Cities on the Map puts your business on the map
Essentially, Let's Put Our Cities on the Map creates a custom website for your town. And not just a few towns, but nearly every one in the US – 30,000 in all. The site teaches you how to enhance the company information that shows up on Google, and also offers instructions on how to make a Google My Business listing. Once implemented, both of these will make it easier for your business to appear in search results.
But that's not all. There are number of other features Let's Put Our Cities on the Map offers, including:
Access to new diagnostic tools that show how your business is appearing in both Google search results and maps
The ability to verify your business for Google searches
Tools to add photos, location and operating hours to your business listing
A year's free access to a domain name and website through their partner Startlogic
Additionally, the site will point visitors to Google hosted, in-person training workshops with local organizations such as your Chamber of Commerce and Small Business Development Centers.
To learn more about Let's Put Our Cities on the Map, SEO optimisation or the latest web developments, contact us today.